Latest on the attack from
Huffington Post
http://www.huffingtonpost.com/entry/uk-parliament-shots-fired_us_58d28ea0e4b02d33b7477c2d
Multiple People Injured In Possible Terror Attack Near British Parliament
At least one person is dead.
At least one person is dead and several others injured Wednesday after an armed man attacked the British parliament building in London.
Police said they are investigating the situation as a terrorist incident.
A man was also seen wielding a large knife,
local media said.
A witness told HuffPost UK that a suspect attempted to storm the gates surrounding the building. It's unclear whether the person killed is a victim or the assailant.
House of Commons leader David Lidington said that at least one suspected assailant was shot after a police officer was stabbed. The officer is receiving medical attention.
Witnesses said they saw a car drive onto the sidewalk, injuring bystanders. One victim was seen lying under the wheels of a bus, Reuters said.
Note: This article contains graphic photos that may be upsetting to some readers.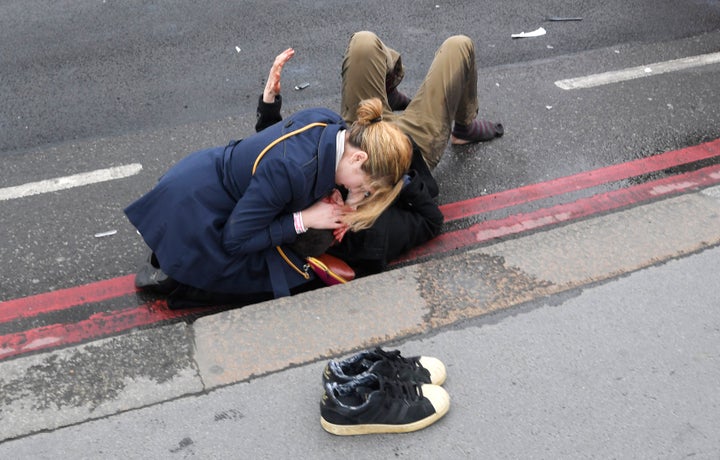 The area where the incident took place is not only the center of U.K. government but also a heavily touristed part of London, probably best known for the "Big Ben" clocktower that's part of the Palace of Westminster. Visitors are able to regularly tour the Houses of Parliament.
The Parliament building was placed on lockdown and a House of Commons meeting that had been in progress was suspended. A nearby tube station was closed.
What appeared to be the prime minister's official vehicle was seen speeding away from the area,
Sky News reported
. An air ambulance landed in Parliament square just before 3 p.m. local time, aerial video footage showed.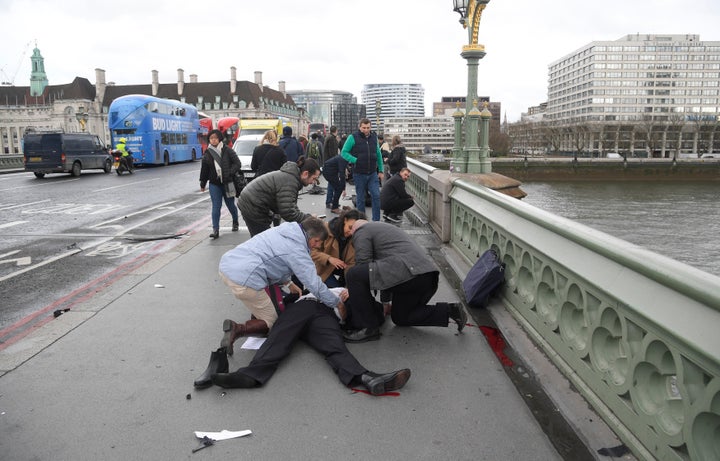 A HuffPost UK reporter described chaos at the scene:
The White House said U.S. President Donald Trump has been briefed on the situation.
See photos of the scene in London below:
This story is developing. Please check back for updates.